One of the most vibrant and eclectic neighborhoods in all of Cincinnati is Over-The-Rhine, more commonly known as "OTR." Located just north of Downtown's Central Business District, OTR is home to an impressive variety of shops, restaurants, bars, pubs, and other businesses.
Many locals would say that if you only have time to visit the city for one weekend, OTR is the one neighborhood that you should spend some time checking out simply because it offers so much to do and see.
For those visiting for the first time, it will come as a complete shock that OTR used to be one of the most crime-ridden and dangerous neighborhoods in the entire country as recently as 2009. Over the past decade, however, the area has experienced an incredible transformation mostly due to massive investments from the Cincinnati Center City Development Corp – better known as 3CDC.
In this post, we share a complete guide to Over-The-Rhine, including a map of neat places to visit, a brief history of how it became the neighborhood it is today, along with a list of the best restaurants, bars, breweries, pubs, shops, and other attractions to check out in the area.
Map of Places to Visit
The following map shows the locations of several neat places to visit in OTR.
A Brief History of Over-The-Rhine
Germans first came to the area that is now known as Over-The-Rhine in the 1830s, then began arriving in mass following the failed German revolutions of 1848-1849.
At the time, many of the German working class residents had to cross the Miami and Erie Canal that ran through the center of the city to get to the downtown area for work. The canal was nicknamed "the Rhine" in reference to the river Rhine in Germany. Thus, the area north of the canal became known as "Over the Rhine."
The area continued to grow and by 1900 the population had blossomed to 45,000.
As railroads became a more efficient way to transport goods, the canal became a less popular form of transportation and eventually was filled in following the Great Dayton Flood of 1913, which caused an enormous amount of damage to the infrastructure of the canal. Following a failed attempt to turn the bed of the canal into a subway system, the area was filled in and paved to form Central Parkway.
Fun fact: The Cincinnati Subway is the largest abandoned subway tunnel system in the United States.
After World War II in the 1940s, the rise of automobiles made it possible for many residents to leave the area and head to the suburbs. As a result, commerce dwindled over time while crime and poverty rose. By the end of the century, OTR had developed a reputation for being a dangerous and undesirable place to live.
The poor reputation reached a peak in 2001 when the killing of an unarmed young black man led to four nights of riots and civil disorder. When the riots made their way to national television, OTR became known as one of the most dangerous cities in the entire country. By 2009 the population in the area had dipped below 5,000 and many considered the neighborhood to be unsalvageable.
Things started to turn around when the Cincinnati Center City Development Corp (3CDC), a private non-profit real-estate development and finance organization that partnered with the City of Cincinnati, began to make massive investments in the area.
Bit by bit, new businesses, bars, shops, and apartment buildings began to pop up around the area. As commerce and business increased, crime decreased. The neighborhood slowly shed its negative reputation and started to become known as a vibrant, fun place to visit and live.
Today, OTR is home to many of the best bars, restaurants, and shops in all of Cincinnati.
Washington Park, located in the heart of the neighborhood, is one of the city's premier public spaces that hosts events year-round.
Findlay Market, located on the north end of OTR, is home to Ohio's oldest farmers' market.
And Music Hall, the classical performance hall that overlooks Washington Park, is home to the Cincinnati Ballet, Cincinnati Symphony Orchestra, and the Cincinnati Opera.
Rich with history, packed with things to do, and bursting at the seams with culture, Over-The-Rhine is now one of Cincinnati's most interesting and lively neighborhoods to explore.
Basic Layout
OTR covers several square miles, but many think of the area as having a southern and northern portion, defined by Liberty street which cuts through the center of the neighborhood.
Most of the revitalization over the past decade has taken place in the southern portion of the neighborhood, although there are plans in place to restore many of the buildings and streets in the northern half over the coming years.
The two biggest attractions that tend to draw people to the northern end of the neighborhood are Rhinegiest, one of the city's most popular breweries, and Findlay Market, the city's premier farmers' market. The majority of the other shops, restaurants, bars, and other attractions that OTR is known for are mostly located south of Liberty Street.
If you're looking for a complete list of bars, pubs, restaurants, shops, churches, art galleries, barber shops, fitness studios, and other individual businesses in OTR, check out this interactive map created by Visit OTR.
For the rest of this post, we'll share a curated list of our favorite places to check out in the neighborhood.
Attractions
Findlay Market: The largest farmer's market in Cincinnati. With over one hundred unique vendors selling meat, produce, desserts, and other local foods, this is an excellent place to check out if you're a foodie or if you're just looking for a fun and unique place to visit.
Washington Park: A 6-acre park that is home to an outdoor porch area that offers light snacks and alcoholic as well as non-alcoholic drinks, a dog park, a massive chess board, several corn hole sets, a pavilion for live performances, and plenty of open green space with benches scattered throughout the park to enjoy the weather when it's nice out.
Cincinnati Music Hall: A classical music performance hall founded in 1878 that overlooks Washington Park. It serves as home for the Cincinnati Ballet, Cincinnati Opera, and the Cincinnati Symphony Orchestra. It also hosts a variety of public and private events that take place throughout the year.
Cincinnati Shakespeare Company: An ensemble theatre company that offers live performances of Shakespeare and the Classics. Check out their site to see what plays they currently offer.
Bars
Alice: A club and dance bar that offers one of the best dancing scenes in the area.
Ghost Baby: A bar located four stories underground in an old lager tunnel that features craft beers, cocktails, and live music.
Mecca: One of Cincinnati's most hip bars, featuring a variety of craft beers, wines, and cocktails along with a spacious outdoor seating area.
MOTR Pub: A pub in the heart of OTR featuring live bands, a menu with a variety of classic pub fare, an impressive menu of craft beers and cocktails, and plenty of local art hanging on the walls.
Mr. Pitiful's: One of the most popular bars in the neighborhood featuring live DJs and a spacious dance floor.
Pins Mechanical Company: A relatively new three-story bar in the heart of OTR that features duckpin lanes on the first floor, a spacious second floor, and a rooftop patio, with all three levels offering a wide variety of local craft beers, liquor, and cocktails.
Platform: A small, classy bar with a long bar area that gives off a laid-back vibe. The hardwood floors combined with plenty of indoor plants create an inviting interior.
Queen City Exchange: A spacious bar with plenty of seating that features a craft beer menu with beer prices that rise and fall based on customer demand, inspired by the stock market.
Queen City Radio: A spacious bar that features both indoor and outdoor seating, food-truck eats, and live music. Be sure to check out their delicious spiked slushies if you visit.
Rhinehaus: Not to be confused with the Rhinegeist brewery, Rhinehaus is a small, cozy bar that offers a variety of craft beers on tap and plenty of TVs in the back half of the seating area that play live sports and news.
Rosedale: One of the most popular bars in the neighborhood known for their massive outdoor seating area, extensive menu of local craft beers, and long line of hanging televisions that play live sports.
Skeleton Root: An urban winery located on the northern side of OTR that features a simple menu of wines and craft beers that can be enjoyed in a laid back, spacious area.
Sundry & Vice: One of the most popular cocktail bars in the city that features a cozy interior with a vintage feel and tin ceilings.
The Lackman: A popular bar known for their impressive menu of local craft beers, unique cocktails, and eclectic wines. This spot is frequently packed on the evenings and weekends.
The Pony: A bar known for their extensive menu of craft beers and delicious chicken wings. Featuring a variety of booths, tables, and bar seating, The Pony is open until 2AM every night of the week.
Wiseguy Lounge: A two-story lounge located above Goodfella's Pizzeria that gives off the vibe of a lounge during the Roaring Twenties. They offer a variety of cocktails, liquor, wines, and craft beer with plenty of seating.
Breweries
Rhinegeist: One of the most well-known and largest breweries in Cincinnati. With a massive interior, a rooftop bar, a space exclusively reserved for corn hole games, and a wide variety of local beers on tap, this is one the most unique places to check out in OTR.
Taft's Ale House: Built inside of an old church, Taft's Ale House offers a massive variety of beers and foods to enjoy in a spacious, inviting atmosphere.
Coffee Shops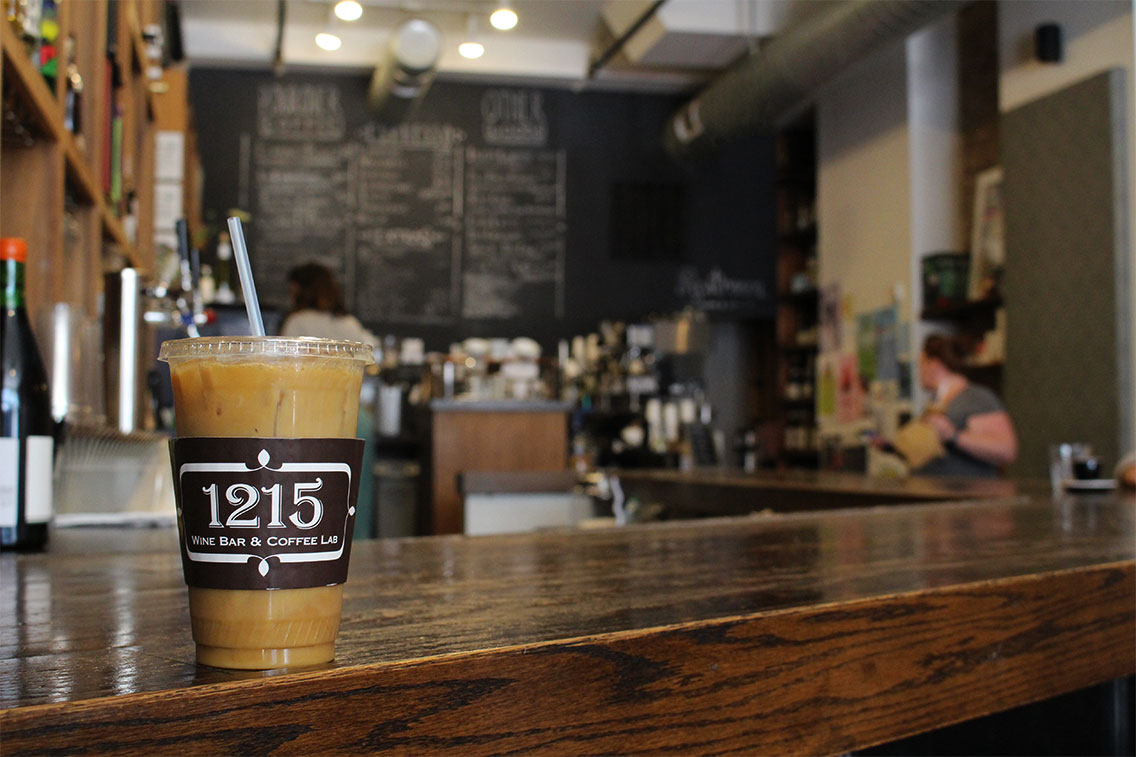 1215 Wine Bar & Coffee Lab: One of the most unique places to grab a cup of Joe in Cincinnati. A self-designated "wine bar and coffee lab," this place has a fantastic laid-back, cozy atmosphere, friendly employees, and delicious coffee. There's a good amount of seating inside with plenty of stools at the bar, several tables in the center of the shop, and a couple of tables facing the windows that offer a good spot for people watching.
Coffee Emporium: One of the most popular coffee shops in OTR that offers a spacious, warm atmosphere combined with an awesome food and drink menu.
Collective Espresso: A small, modern coffee shop that serves excellent coffee in the heart of the neighborhood.
Deeper Roots Coffee: A coffee shop located next to Findlay Market that offers some of the best coffee available in the city.
Iris Book Cafe: A cozy coffee shop featuring an interior that is decorated with shelves and tables lined with books, photos, and artwork. This shop also an outdoor patio with a good amount of seating, which is a great place to get some work done or simply sit outside and enjoy a coffee when the weather is nice.
Urbana Cafe: A coffee shop that has a unique layout with several tables, a couple bar stools, and a second floor that's perfect for anyone looking to get some work done on a laptop. Their menu includes an excellent selection of coffees, teas, and baked goods.
Restaurants
Bakersfield: Located in the heart of OTR, Bakersfield is known for three things: tacos, whiskey, and tequila. Because of its convenient location and its delicious tacos, this spot is almost always packed and usually requires you to wait to get a seat. However, most people find that the wait is worth it because their dishes are just that good.
Gomez: A Mexican restaurant known for serving tacos in "turtle" shells stuffed with rice, beans, meat, veggies, and cheese, which is all sealed up in an extra cheesy tostada crunchy shell. They also offer a variety of cocktails and margaritas that complement the dishes nicely.
Kruegers: A popular American restaurant. Their simple menu includes burgers, salads, sandwiches, sausages, and fries.
Nation Kitchen and Bar: A laid back eatery known for their large beer menu, craft cocktails, delicious burgers, and a variety of potato sides.
Lucius Q: A two-story barbecue, bourbon and beer hall with a modern-industrial vibe featuring both indoor and outdoor seating.
Pleasantry: A restaurant that specializes in wine, Midwestern food and crafted coffee. Their brunch menu features breakfast sandwiches, potatoes, biscuits, and pancakes while their dinner menu includes burgers, grilled trout, roasted and fried chicken, and egg noodle chitarra.
Pontiac: A small barbecue joint that offers a unique modern take on a beloved Midwest style of cooking. Their smoked wings are rich with flavor and although Pontiac only offers one sauce, most people don't complain because it's just that good.
Quan Hapa: A small, hip eatery that specializes in Asian street food and cocktails.
The Arepa Place: A Latin American restaurant that specializes in a Colombian dish known as arepas. Featuring flat tortillas stuffed with meat, veggies, and chicken, their cuisine is delicious. They offer a variety of different salsas that complement the dishes as well.
Sacred Beast: One of the most popular and highly rated restaurants in OTR, Sacred Beast offers contemporary American food that can be enjoyed in a spacious, airy environment.
Salazar: A small, upscale restaurant that offers a variety of entrees on a regularly changing menu that can be enjoyed with a variety of wines, craft beers, or cocktails.
Senate: A trendy, highly rated pub that specializes in gourmet hotdogs with a variety of toppings, along with local brews and cocktails. For those who don't love hotdogs, they also offer salads, chicken wings, and potstickers among other menu items.
The Eagle: One of the most popular restaurants in all of OTR known for serving Southern classics like fried chicken, pork sandwiches, grilled cheese, and spoonbread. Their menu also includes a variety of local craft beers and craft cocktails.
Shops
Continuum: An eclectic bazaar and concept shop that offers a variety of clothing items, small decor items, and ceramics from a range of independent and emerging designers, with an emphasis on ethical and sustainable production.
Homage: A local sports shop that offers a variety of gear for game day events and everyday wear.
Jack Wood Gallery: A vintage poster and artwork gallery that offers a unique variety of graphic art from the late 19th-century to the mid-20th century.
Smith & Hannon Bookstore: A unique bookstore in OTR that specializes in literary works from African American and local authors.
Urban Eden: An art gallery that features fine art, contemporary crafts, jewelry, and handmade wooden art from local artists available for purchase. Note that they're only open on Thursdays, Fridays, and Saturdays from 12-5PM.