Wyoming, Ohio is a suburb on the outskirts of Cincinnati that, according to Niche.com, is one of the best places to live in all of Ohio because of the highly rated public schools, excellent job opportunities, booming housing market, and low crime rates.
In addition to all of these wonderful qualities, Wyoming also has a great food scene with restaurants that offer everything from burgers to BBQ to bacon & eggs and everything in between.
In this post, we share our five favorite restaurants in Wyoming, Ohio that you must visit if you get the chance.
Gabby's Cafe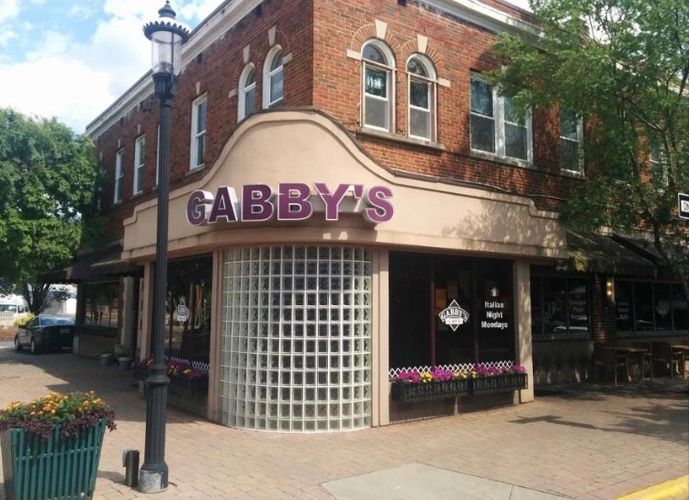 The first restaurant on our list that you must visit in Wyoming is Gabby's Cafe, a joint known their pizza, burgers, lasagna, spaghetti and meatballs, and a variety of seafood-inspired dishes including grilled salmon and fish sandwiches.
Viewed from the outside, Gabby's looks like a movie theater straight out of the 1950s, but once you get inside you see that it offers some of the most authentic Italian and American food you can find anywhere.
Along with the main entrees, Gabby's is known for their desserts include mouthwatering homemade carrot cake.
In addition to the excellent food, Gabby's has plenty of local beers and house wine to choose from along with rotating craft beer choices on tap.
Whether you're in the mood for some traditional Italian spaghetti & meatballs, a pizza, a cheeseburger, some fish and chips, or something else entirely, Gabby's has something for everyone.
Address: 515 W Wyoming Ave, Cincinnati, OH 45215
Website: Gabby's Cafe
CWC The Restaurant
Next up on our list is CWC The Restaurant. Named after the head chef Caitlyn Steininger, "CWC" stands for "Cooking with Caitlyn" and everything about this place is truly unique from the eggs painted on the walls outside of the building to their hours of operation: they're open only on Fridays, Saturdays, and Sundays.
Their menu includes a variety of dishes, but some of the local favorites include:
Char cheddar burger

Pork belly

Fish taco

Spicy sausage pizza

Donut sandwhich
In addition, CWC also has some incredible desserts including:
Blueberry ginger pie

Peach almond cake

Orange pecan crumble
Also, CWC hosts what is known as Third Thursday, which takes place on the (surprise, surprise) third Thursday of every month. As explained on their website:
"Come hungry for nine courses of original, Caitlin-ed up recipes, all in couple-bite proportions. It's a casual, mingle-y feel that happens to be in a restaurant setting. All the food is made right before you, and passed in small batches. Beverages are available for purchase. And — bonus! — we'll share the recipes with you later, following the event."
No matter how you slice it, CWC is a truly unique restaurant in the heart of Wyoming that is well worth the visit.
Address: 1517 Springfield Pike, Cincinnati, OH 45215
Website: CWC The Restaurant
Station Family BBQ
The next place that you should check out in Wyoming is Station Family BBQ, a restaurant that offers some of the richest, freshest barbecue dishes in all of Cincinnati.
Some of the more popular choices on the menu include:
Pork belly

Smoked spatchcock chicken platter

Root-beer BBQ brisket burnt ends

Cincinnati sausage
Along with the main entrees, Station also offers traditional sides including mac n cheese, homemade applesauce, and cole slaw. And of course, each dish is served with a variety of sauces including classic BBQ, creamy horseradish, and pepper fire sauce.
In addition to the high quality food, Station hosts a variety of events throughout the week that make it a true community gathering spot. Events include:
Tuesday night trivia

Wednesday wine flight nights

Live music on Friday and Saturday nights

Saturday morning yoga
Whether you're in the mood for some fresh BBQ or you're looking for a place to grab a drink and enjoy a community event, be sure to check out Station Family BBQ.
Address: 400 Wyoming Ave, Cincinnati, OH 45215
Website: Station Family BBQ
Half Day Cafe
The next restaurant on our list that you must visit in Wyoming is Half Day Cafe. The name "Half Day" comes from the fact that they specialize in breakfast and lunch, and thus close each day at 2PM. 
This is arguably the most popular place to grab breakfast, brunch, or lunch in Wyoming and for good reason: Their staff is friendly, the atmosphere is inviting, and the food is delicious.
Some of the popular breakfast menu items include:
Pancakes

French toast

Eggs (served in every way imaginable)

Smoked bacon

Omelettes
And popular lunch options include:
Grilled cheese

Avocado club wrap

Quesadillas

BLTs

Salads (Cobb, Garden, Spinach & Maple Bacon)
If you're looking for a place to grab some breakfast or lunch, you can't go wrong with Half Day Cafe.
Address: 1 Wyoming Ave, Wyoming, OH 45215
Website: Half Day Cafe
Tela Bar and Kitchen
Last but not least is Tela Bar and Kitchen. Known for their traditional burgers, fries, and salads, Tela is one of the best places in Wyoming to grab a meal and a drink.
It only takes one visit to this joint to understand why it has a 4.5 star rating on Google Reviews – the burgers are fresh, the fries are crunchy, and the salads are delicious. In addition to the excellent food, Tela offers a variety of craft beers and wines along with a full bar to sit at and enjoy a drink.
Along with extensive indoor seating, Tela also has an outdoor patio that offers additional seating space. On days when the weather is nice, the patio area is almost always full.
The combination of excellent service, high quality food, and the trendy atmosphere make Tela a must-visit in Wyoming.
Address: 1212 Springfield Pike, Cincinnati, OH 45215
Website: Tela Bar and Kitchen